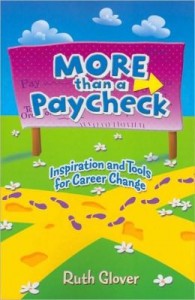 More than a Paycheck: Inspiration and Tools for Career Change  helps you find more joy in your life through your career.  By reading 20 stories about people who changed or moved their careers, you will be ready for change. Analyze your skills, create a plan, and take action to find MORE than a paycheck."  Ruth Glover
MORE than a Paycheck is available in all electronic formats through Amazon and other distribution channels.  To purchase the paperback, please contact the author through the CONTACT tab with your name, address, city, state, zip and phone number and email for a discount. She will contact you.

 Role Models
Both men and women, young and old, are among the role models offered to the reader.  Some chose small changes, like Ed, who  stayed in technology but gained better titles and responsibilities with his search.  Ed feared change with a family to support, but, despite fear, overcame obstacles to achieve better jobs. His confidence, faith and networking supported him through rough times.
 NOT a Book about Resumes
This is not a book about how to write a resume but rather a book that will hit you in the face, forcing you to realize your potential. You'll read stories of people who channeled their fear of the future into new, more meaningful careers.
Ruth Glover's book MORE than a Paycheck: Inspiration and Tools for Career Change, is  a "must read" for anyone contemplating a career or job change.  The book of 20 stories about real people is divided into three sections:
People-You need support through others, such mentors and role models.
Power -You need to believe in yourself but know a bigger picture affects your decisions.
Persistence-You must be enthusiastically persistent to achieve a successful career change.
Whether you choose a completely different career, such as the nurse who, out of necessity, goes to work in a factory or a teacher who becomes an educational consultant, you will be fascinated with how their careers evolved.