Volunteer work impacts you and the world in many ways.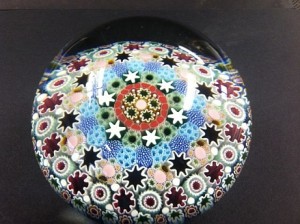 Two paperweight artists, Damon MacNaught and Jim Brown, both from Middle Tennessee, are working together to help create a gift of paperweights to a nearby art program to preserve history.  At our last PCA-Texas meeting Damon shared his history and his passion for paperweights.  He recounted a success story about acquiring the Kolbe Collection for CumberlandUniversity in Lebanon, Tennessee, assuring publicity for the world of paperweights.
The Kolbe Collection
Bill and Ruth Kolbe of Madison, Tennessee were avid paperweight collectors, members of the Tennessee Paperweights Group in the early part of the century.   Last year Damon, while perusing documentation about paperweights, found a telephone number for Bill, who had been president of the Tennessee PCA.  On a whim, he decided to see how they were doing.  When he called, Ruth answered with the news that Bill died in 2007.  She was packing boxes to move.  Naturally, his question was, "What will you do with your collection?"  Ruth was struggling with the issue and urged Damon to visit for a possible donation to a local university.  She didn't have a clue how to arrange the gift.
Damon called his friend Jim Brown, well known for his paperweights, as he felt sure, Jim would want to assist with decisions and identifications about the possible donation.  Jim, who lives near Damon, has encouraged Damon in his emerging career.
Prior to his death Bill shared with Ruth that he wanted to donate 50 weights from the collection locally.  Damon suggested  Cumberland University in nearby Lebanon, Tennessee, as he teaches art at the school and knew the people to contact.  Damon and Jim wanted the selections to provide historical perspective, showing antiques, modern and emerging artistry.  Damon and Jim established the value of the 47 weights at $20,000.  Coordination took time and effort.  The appraisal, donation terms and documentation are duly recorded for posterity.
University Approval
The university readily agreed to display the paperweights with dignity by adding glass shelving in the Heidel Fine Arts Building for all to enjoy.  The collection will help preserve history and serve as an educational tool for art students to consider paperweights as a medium.  The school and Damon are consulting with Nashville Displays and the Bergstrom-Malher Museum in Neehnah, Wisconsin to assure security and beauty create an extraordinary experience with educational value for the public.  From antique Baccarats to modern artists, including Parabelles, a Drew Eblehare and others, paperweight history will be enhanced.
The Future
Andrew Najarian, a friend and colleague of Damon's, attended our paperweight meeting in Fredericksburg, Texas.  Andrew studied glass and glass cutting, becoming the next Ed Poore in the process.  Andrew and Damon are a dynamite duo.  Their faceted paperweights rival some of the old masters in beauty. And with their outgoing personalities, they are bound to be around our passion for paperweights for a long time.
You can see Damon's Youtube video and become a "friend" of both of Andrew and Damon on Facebook. Damon was the recipient of a PCA-TX scholarship where he attended classes with Victor Trabucco at  the Corning Museum of Glass last year. You can learn more about Damon on his website at www.dmacnaught.com.  Their volunteer efforts preserve history, while getting to know people across the world.
What are you doing to promote your industry or business through volunteering?  
This article was published in the May 2014 edition of The Paperweight, the newsletter of PCA TX, and is reprinted with permission of the author, Ruth Glover.