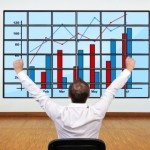 Last week Fox News ran an article about current job data.  Titled CEO of Gallup Calls Jobless Rate 'Big Lie' Created by White House, Wall Street, Media.  Jim Clifton, CEO and Chairman of the Board of Gallup, the renowned research company, is quoted telling a Fox reporter the unemployment figures are "lies."  You can watch the video where Mr. Clifton tells his reasons for doubting the veracity of the data.  I doubt the job data.
Doubt #1
In Texas, we see mostly good news about unemployment.  Have you heard people say, "People should be able to find a job in Texas with unemployment under 5%."  Really?  If you left your job a few months or a year or so ago with antiquated skills, you might not be counted in the data.  You may have a decent resume, but the skills needed for many engineers today are not the same as those used in recent employment.  The information in the Fox News piece clearly showed the data may be 11.2%, rather than 5.6% unemployment.  People out of work for an extended period may not be counted.  Part-time workers and the underemployed may be mixed with the full-time workers recently hired.  The data seems misleading.
Doubt #2
Fox News likes the Republicans and often disses the Democrats.  Who can you believe?  Obama says the economy is thriving, yet the Republicans proclaim start-ups are at the lowest point in 20 years. We need start-ups!  I marvel at the creative ideas presented on Shark Tank, but investors and large companies are fearful of spending their cash. What is reality?
Doubt #3
If you are a new grad with an extraordinarily good GPA and fabulous technical skills, perhaps in security software, your search may be challenging without a degree from an Ivy League School. Fortune 100 Companies use lists of target universities to hire the "best" students.  The competition is fierce.
I heard a friend say, "The best education is a Liberal Arts major."  I asked him how his son found his stellar job a few years ago with a Liberal Arts degree.  He responded; he referred him to a friend of his in the oil patch.  I think that's called "networking."  I don't know what skills his son brought to the table with his Liberal Arts degree, but the world is full of "good-ole-boy" stories, such as this.
Who's Hiring; Who's Not
Read the Business Journal from your city to find opportunities.  Update your skills.  In the Dallas-Ft. Worth Business Journal, we see Toyota, Nebraska Furniture with many contract positions.  HCL Technologies mentioned 300 openings upcoming, but I had to search Dice.com to find the details.  Security technology jobs are abundant but require specific knowledge.  Diesel mechanics and truck drivers are in demand.  Today American Airlines lists 200+ jobs in Dallas-Fort Worth area but the right skills are required.  More than half their openings are at the lower end of the pay scale.
Exxon and Radio Shack are laying off people in droves…But, you know that.  Keep your ear to the ground to apply for real openings, not the job ads that stay online permanently, in case the company is building a pipeline to fill later.
Target Your Efforts
Sometimes I feel like I speak out of both sides of my mouth.  I rant and rave to job seekers to 'target the job, but keep your eyes wide open." Some may say the economy is great.  Gas prices are down.  Others may lament with gas prices down, we are bound to have a dip in the economy. I was in Houston this weekend.  The rest of the country may be upbeat, but the Houston paper provided sad stories of layoffs in the oil business.
Unhappy with your job?  Want to enhance your career?  Are you unemployed or underemployed?  I don't think anyone knows for sure when or if the economy will decline soon, but you'd better hurry up!  You don't want to miss the existing opportunities!