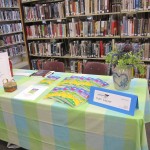 Books, books and MORE books. Fascinating books for readers and writers about World War II, foreign places, and gain knowledge for inspiration.
FAVORITE BOOKS
Books taking place in foreign places
A Good Place to Hide-Peter Grose –written in 2015, historical non-fiction-excellent details about the saving of the Jewish children and adults during WWII by the townspeople in Chambon-sur-Lignon, old photos included.
Lest Innocent Blood Be Shed– Philip Hallie-written in 1979-very detailed, interesting photos-historical non-fiction from a professor's viewpoint of Chambon-sur-Lignon during WWII.
Doors to Madame Marie-Odette Meyers-written in 1997, novel based on true story, set in Germany
The Nightingale-Kristen Hannah-best seller-excellent novel about WWII
Sarah's Key-Titiana de Rosnay-another bestseller and movie from 2011 about one family's Holocaust horrors
All the Light We Cannot See-Anthony Doerr-best seller-excellent WWII story in France and Germany setting
Lilac Girls–Martha Hall Kelly-best seller-a novel based on the sulfa experiments in Ravensbruck, Nazi concentration camp during the Holocaust. Takes place in Germany, Poland, France and the U.S. A story which needs telling but difficult for the overly compassionate to read.
The Last Time I Saw Paris-Lynn Sheene-novel-takes place during WWII
Paris: A Love Story-Kati Marton-memoir about her life as the wife & ex-wife of Peter Jennings
An extensive book list with much insight about Auschwitz and World War II:
http://auschwitz.dk/bookstore/index.htm
MORE books about the Holocaust:
Hidden on the Mountain – DeSaix & Ruelle – Stories of Children Sheltered from the Nazis in Le Chambon (new to list)
Hitler's Art Thief-Susan Ronald – How Hildebrand Gurlitt succeeded in looting  in the name of the Third Reich
Auschwitz #34207:The Joe Rubinstein Story-Nancy Sprowell Geise – How Joe survived several concentration camps, arrived in the US to become a famous shoe designer through faith and courage.
The Bones of Time-Liliane Richman – A memoir from a Jewish child who lived through the 1940's. She lived with a Catholic family in Southern France. Later reunited with her family later.
If you have a favorite that takes place in France or other European countries, please let me know at ruth@ruthglover.com
You may register for Roving Ruth, her free, monthly newsletter, at the top right-hand corner of my website. I share stories about uncommon people and places.
Gift of the Suitcase, Ruth's travel memoir, is available through https://www.ruthglover.com, Amazon, Barnes & Noble Kindle, Nook, Kobo and directly from the author. Her work number is 972-208-2333 and her email is ruth@ruthglover.com. Your input after you read it on an Amazon or Barnes and Noble review will be greatly appreciated by other readers. If you live in the Dallas area, feel free to call her as most of the time she will have books on hand. 
FOR WRITERS
GRAMMAR AND PUNCTUATION
Elements of Style
-Strunk and White
Write Right!
-JanVenolia
English Grammar for Dummies–Geraldine Woods
The AP Stylebook-updated periodically

STYLES: Which Fits YOU Best?
You've Got a Book in You: A Stress Free Guide to the Book of Your Dreams-Elizabeth Sims
A Writer's Coach:The Complete Guide to Writing Strategies That Work -Jack Hart (Journalist's View)
The Writing Life-Annie Dillard
On Writing: A Memoir of the Craft-Stephen King
Bird by Bird
-Anne LaMott
COACHING
Story Engineering– Larry Brooks
Larry Brooks-series for writers
Mystery writers-Larry Brooks is a "must read" for step-by-step approach. I heard him speak eloquently and acerbically at an authors' conference.  Check out all his books at your favorite bookstore or online book sellers websites.

Writers Digest-Magazine Subscription-a MUST for all writers